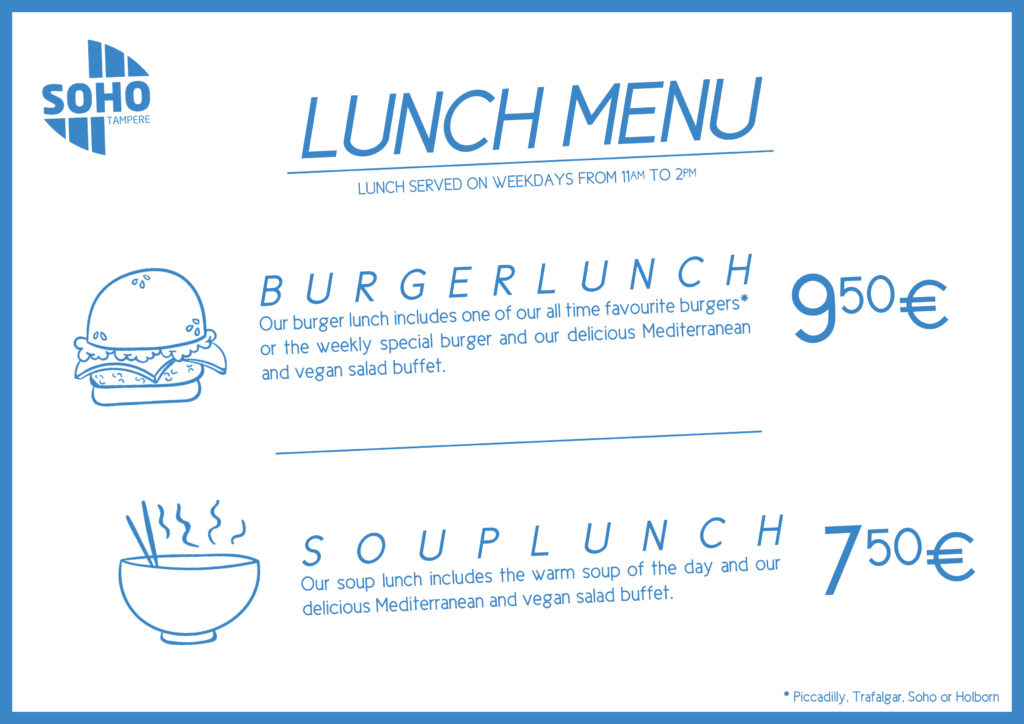 Hear ye, hear ye, Pub Soho's long-awaited lunch will return after just a week!
Starting on Monday August 21st, we will change our opening times back to the winter schedule, which means we will once again start serving our popular lunch. Our delicious Mediterranean and vegan salad buffet will return, along with the ever so popular burger lunch offer. But do we have a treat for you this time around: yes, the salad buffet now comes with warm soup.
Nice one!
Like the salad buffet, our soups will always be fully vegan friendly and fresh, with recipes ranging from traditional to ethnic twists. With this addition, you will now have a choice between the 9,50 euro BURGER LUNCH which comes with the salad buffet or the 7,50 euro SOUP LUNCH which comes with the salad buffet and the soup! Unfortunately for you lunch time gobblers, the soup is not included with the burger lunch.
We hope to see you all during lunch hours from 11am to 2pm starting on Monday August 21st!
Starting on that same Monday, our opening hours will be as follows:
Mon – Fri 11am – 2am
Sat 12am – 2am
Sun 2pm – 2am
Cheers and see you soon!