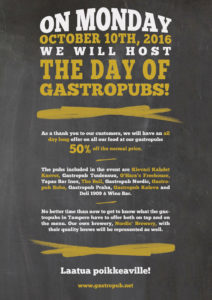 On Monday, October 10th, 2016, we will host The Day of Gastropubs!
As a thank you to our customers, we will have an all day long offer on all our food at our gastropubs 50% off the normal price.
The pubs included in the event are Kievari Kahdet Kasvot, Gastropub Tuulensuu, O'Hara's Freehouse, Tapas Bar Inez, The Bull, Gastropub Nordic, Gastropub Soho, Gastropub Praha, Gastropub Kaleva and Deli 1909 & Wine Bar.
No better time than now to get to know what the gastropubs in Tampere have to offer both on tap and on the menu. Our own brewery, Nordic Brewery with their quality brews will be fully represented as well.
Laatua poikkeaville.