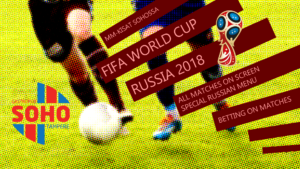 One of the best times in a sports fan's life draws near as the World Cup of football kicks off in just a week's time. As expected, and quite frankly rather anticipated, Gastropub Soho is again well in on the action!
What we got to offer during this year's football-alooza, you ask? Well, first of all, we'll be showing all of the matches on our screens during the whole tournament. Secondly, our menus will be revamped with special Russian Menu items, which include Meze, Solyanka, Russian Burger, Stroganov and Currywurst. The new menus will appear on our tables upon opening the doors on Thursday, June 14th, the latest. And finally, we will have score betting on matches, open for everyone who pops in to watch our favourite football stars compete for glory.
As per usual, the World Cup coincides with Finnish Midsummer weekend but no need to worry, this won't slow us down one bit. During the Midsummer weekend we will show all the matches as scheduled and will stay open for at least an hour after the final match ends. Friday lunch will also be served as usual during the World Cup.
There's no place like Soho during World Cup – so we'll see you by the bar! Make sure to follow us on Facebook where we'll post all the matches every day and other interesting news.