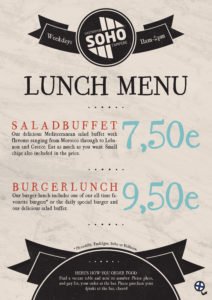 Slowly but steadily, summer is behind us but no worries 'cos that means Soho's lunch will return!
From August 29th (that's in one week, yes) we will serve you a brand new lunch with a twist. The daily lunch burger returns but now you can also enjoy a salad buffet with or without the burger. The buffet has a strong Mediterranean feel to it, with flavors ranging from Morocco via Lebanon to Greece. We hope to make each and every item on the buffet vegan friendly and will note if something is not suitable for vegans.
Please, note that our lunch will be served Monday through Friday from 11.00 am till 2.00 pm. 
Here are the new items we serve:
Burger Lunch – 9,50€
The famous Soho lunch burger with daily changing toppings and the salad buffet.
Salad Buffet – 7,50€
The salad buffet will serve just as well as a main course, if you're not feeling burger-y. Also comes with a small portion of chips, if you so desire.
Buffet with à la carte – 5,00€
Feel like ordering from the original menu and having some Mediterranean flavors? Just add a fiver to your food order and you're all set.
Our opening hours from Aug 29th are as follows: Mon-Fri 11.00am – 2.00am, Sat 12.00am – 2.00am and Sun 2.00pm – 2.00am.
Welcome!