Beer & Burgers. Not so fine dining.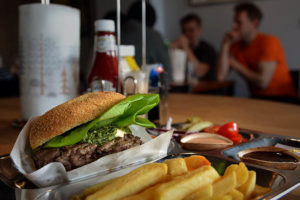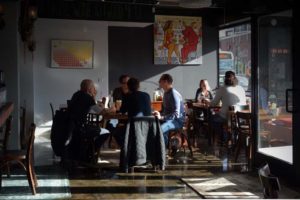 Mitä ei The Bullin listalta löydy, sitä tuskin purilaismaailmassa tarvitaan. Valikoimissamme on sellainen arsenaali lihaisaa burgerpurtavaa, että vannoutunut lihansyöjä liikuttuu.
Vaikka toisaalta vaihtoehtonsa on myös kasvissyöjille ja jopa vallan vegaaneillekin. Ja salaattiakin saa. Bullissa lounasta tarjoillaan keskiviikosta perjantaihin. laajan ruokalistan lisäksi myös paljon hyviä pienpanimo-oluita ja laadukkaita viinejä.

---
REAL DEAL
These (250g+) burger patties are made from premium 100% Black Angus beef and ground daily here in house by our own little hands. Some may call it steak, we call it burger. Grilled MEDIUM and served with fries OR side salad, house mayo, tomato, onion, lettuce & pickles. KISS!
1. Classic 14.50€
Need more? Do it yourself, add extras…
2. Cheese 16€
Thick slice of quality Cheddar.
3. Porn Master a.k.a Naam chim makhaam 16€
Thai paste of tamarind, chili, fish sauce, lime & coriander.
4. Mango 17€
Homemade Mango chutney & Sriracha mayo
5. Cheese & Bacon 17€
The Dingley Dell pork. Say no more!
6. Death Kiss 17€
Cheese with secret recipe chili sauce.
7. Dirty Harry 17€
Blue cheese & onion compote.
8. Haisuli (Stinky) 17.50€
Munster cheese, onion compote & sour cream.
9. Garlic 17.50€
Cheese burger with plenty of garlic mayo. Who´s the Stinky one now?
10. Italian 17.50€
Mozzarella cheese with Pesto.
11. El Santo 18€
Homemade Guacamole & Pico de Gallo.
12. The Brie 18€
THE ORIGINAL Brie de Meaux & Apple.
13. Cheese & Bacon BBQ 18.50€
Beer & Bourbon flavored BBQ sauce.
14. Highlander 18.50€
Dirty Harry burger infused with Grant's Reserve Scotch Whisky
THE SPECIAL KINDA SPECIALS
15. Snadi 14.50€
125g patty, smoked cheese, onion compote, remoulade & BBQ
16. Tiivi-Taavi (Tinky-Winky) 14.50€
No meat but generous slice of goat cheese, rocket salad, Onion & Beetroot compote served with Tubby toast, o-oh!
17. Vilijonkka (Fillyjonk) 16€
All vegan! Blackbean steak, rocket & more. Enjoy, you little hippie!
18. 'Shroom 17€
Grilled Portobello mushroom with Mozzarella cheese & caponata.
19. Pulled Chicken 18€
200g of Chicken, pineapple & Kimchi.
20. CCCP (Chili con Carne & patty) 18€
150g patty with scoopful of Chili con carne, cheddar, sour cream & chiles.
21. Pastrami burger 18.50€
150g patty with pastrami meat, loads of sweet mustard & Russian dressing.
22. Tuna fish burger 18.50€
200g Tuna steak, Caponata & Lime mayo.
23. SUOMI100TAMPERE-BURGER 18.50€
200g Horsemeat patty, Beetroot compote, Horseradish cream
& Selin Blue cheese from Ahlman.
24. BURGER SLIDERS: 3 mini BBQ-burgers
(Cheese/Onion/Bacon) 17.50€
HOT DOGS 6.50€
CHOOSE STYLE:
CLASSIC DOG
KIMCHI DOG
COLESLAW DOG
CHILI DOG
CHEESE DOG
CHOOSE SAUSAGE aka DOG:
KRAKAUER (NORMAL)
MERQUEZ (LAMB+CHILI)
CHICKEN & CORIANDER
PORK & GARLIC
VEGE (SOYA)
Including: onion, mustard & pickles.
HOT DOG + FRIES 9.50€
HOT DOG + FRIES + 50cl of beer from
NORDIC BREWERY 16.50€
"PLEASE at least try eating the damn burger with your hands. And for God's sake don't order your meat well done!" The Bird X-Berg
Sides 4€ each
Fries(w/cheese), Sweet potato fries, Coleslaw, Fried veggies, Salad.
Dips 1.50€ each
Mayo(Lime/Garlic/Sriracha), Horseradish cream, Death kiss, Remoulade, Guacamole, Pico de Gallo, Russian dressing, Beer & Bourbon BBQ, Naam chim Makhaam…
Didn't find it? Pimp it please…
2€ each: Cheese (Cheddar, Blue, Swiss, Goat, Munster, Mozza, Smoked), Fried egg, Chili peppers, Bacon, Caponata, Compotes (Apple, Onion, Beetroot).
4€ each: Chili con Carne, Brie de Meaux, Pastrami.
Gluten-free bun: 1€ extra
Something else
Pastrami on rye, NYC style 9.50€
150g of hot beef pastrami on rye with mustard, pickles & coleslaw.
Pastrami Reuben 9.50€
150g of hot beef pastrami on rye with Swiss cheese, Russian dressing, pickles & sauerkraut.
Goat cheese salad 12.50€
Goat cheese, lettuce, Caponata, olive oil & bread.
Toast with Bacon & Egg 7.50€
Chili Cheese Fries 9.50€
Currywurst & Fries 9.50€
250g Burger steak & Fries/salad 11.50€
Nachos & Chili con/sin Carne 12.50€
200g Tuna steak, Fries/salad, Caponata & Lime mayo. 16.50€
Nacho Chili Buffet
Wed-Fri 11-15 10.30€
Incl: Chili con carne, salad, onions, olives, nachos, jalapenos, lime, salsas, guacamole, sour cream, fresh cilantro, black beans, chiles, cheddar & bun
SUGAR RUSH
I scream & Butter scotch 5.50€
Mud cake & Vanilla Sauce 6.50€
thirsty? Yeah, so are we.
Draught
Our own Nordic Brewery beers and others. Check from the chalkboard.
Bottled beers, ciders & more:
Please check straight from the cooler.
Wines (12cl/75cl):
Cava 7/39.50€,
White 7/44.50€
Red 7/44.50€,
and more…
COCKTAILS
In Gin we trust! Gimlet, Gin & Tonic, Long Island Ice Tea…
Shots (2cl) 3€ each
Jägermeister, Vodka, Bourbon, Scotch, Irish, Gin, Limoncello, Averna…
…and more
Coca-Cola, Coca-Cola Zero: 3€
Sprite, Fanta, Sparkling Water: 4€
Fritz-Kola, Fritz-Limo & Fritz-Spritz: 5€
Americano/espresso 3€
Good to know

PLAIN is "hand burger" without sides, wrapped to go or enjoyed here: -3€

"NAKED" = no bun. Wrapped in cabbage.
LUNCH: Wed-Fri 11-15. Reduced prices, smaller sizes, lighter bites. 3 daily changing burgers + Nacho Chili Buffet and more…
DAILY SPECIALS: shown on chalkboard.
TAKE AWAY: +1€ per each portion.
Life is hard, CHANGES COST: +1€
NOT SO HUNGRY? All our "REAL DEAL" burgers can be ordered with 150g patty instead of 250g+. Discount: 1.50€
WATER, SPICES & CUTLERY, found from the side table. Please help yourself.

HURRY? You are welcome to place your order and pay your bill on bar desk.

PEACE, LOVE, PATIENCE & UNDERSTANDING. We are working as fast as we can even though we are not "fast-food" restaurant so please have the things mentioned above. If you have none, please go elsewhere!

WE ARE NEW. Help us get old, by giving tips and useful criticism. New recipes and ideas are always welcome.